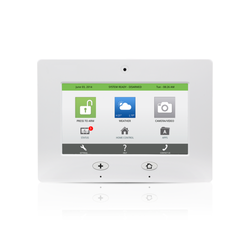 The first time home security systems were invented, they utilized wired technology. Over time, the systems have evolved to wireless technology. Therefore, you can install a wireless home security system and be able to monitor what is happening back at home from miles away.
In this article, we will analyze some of the advantages of installing a wireless home security system.  Keep reading to find out why you need to install this system.
Easy To Install
Think of the wiring you had to do in your home to connect the security systems. These took a lot of time and further, you had to have the required knowledge to do the wiring. However, the wireless home security system is just a simple plug and play system.
Therefore, you spend less time installing the system. Further, you will not need to conduct circuit testing as compared to a wired system. Therefore, a wireless system is the best to invest in since you will enjoy the ease of installation.
Functions on Battery Power
The wireless home security system is built such that you don't have to connect the system to power on full-time. Instead, the system runs on battery power which is more reliable in case of a power blackout. Therefore, even in circumstances where an invader cuts your power connection, you are guaranteed that the system will function. Therefore you can enjoy continued protection throughout.
Covers a Wider Range
Compared to wired systems, a wireless home security system covers a wider range. In most circumstances, this is double the range covered by the wired home security system. This is more advantageous since you can observe what is happening over a wider range without having to install multiple systems. Basically, you will save on the cost of securing your home.
Ease of Upgrading and Troubleshooting
As a homeowner, you want to make sure you have the latest technology when it comes to home security systems.
A wireless home security system is easy to upgrade to the latest version compared to a wired system. Therefore, if you want to be able to upgrade your home security system, install the wireless technology.
On the other side, consider the ease of troubleshooting. With a wired system, you have to check circuit continuity on the wires.
However, the wireless technology you just need to check two nodes make troubleshooting easy.
Smarter Homes
We live in an era when all people want to have smart technology in their homes. Therefore, they invest in wireless technology systems which is smarter compared to the old generation systems. Smarter technologies make you look tech savvy which is desirable in the modern world.
The Wireless home security system is the best alternative for your home. If you're looking to install your system, schedule an appointment with Locksmith Burbank today!